PERGOLAS / PAVILIONS
Cambridge Pergolas Kits
Pergolas Constructed Of High Strength, Low Maintenance Fiberglass
Pre-Packaged Louvered K-Bana
Aluminum K-Bana with louvered panels allows perfect sunlight control in summer and protects from wind, rain and snow in winter (Available as a Special Order Only)

Available in White only; louveres can be manual or motorized

K-Bana cubic module is fully customizable from floor, walls to roof

No footings for installation / easy assembly

Standard size: 8' x 8', 10' x 10', 12' x 12' or specify any custom size up to 36' long x 12' wide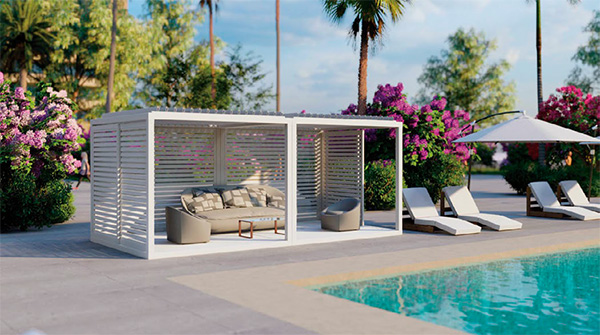 ---
Pre-Packaged Louvered Pergola
Aluminum pergola w/ remote controlled rotating louvers, providing protection against rain & sun

Available in two standard colors: White and Anthracite Grey (shown in photo)

Available in two standard styles: Traditional (white only) and Contemporary (shown in photo)

Standard Size: 11 1/2' x 16 1/2' x 9' high or specify any custom size up to 18' x 18' x 9' high to meet the specific requirements of your project

Integrated LED Lighting included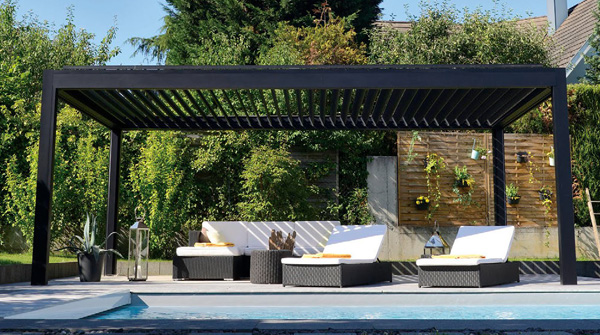 ---
Pre-Packaged Fan-Shaped Pergola
Fits in an area 13' x 13' from corner

Choice of two or four 10" diameter or square fiberglass Tuscan columns & bases (columns come in base white)

Columns can be set on any Cambridge Wallstone Columns (not included)

All components are pre-cut & drilled for easy assembly

Size: 9' 9" high, 9' 2 1/4" wide (back) & 18' 4 5/8" (front)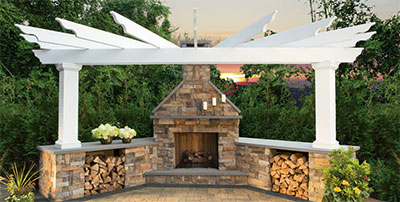 ---
Cambridge Pre-Packaged 4 Column Pergola Kit
For a pleasant respite in a resort-like venue, build this lovely, freestanding structure to provide some shade from the hot sun.
Available In 16' x 16', 16' x 20' & 20' x 20' Or Specify Any Custom Size

In White With A Wide Range Of Custom Colors Available

Four 10" Square, Fiberglass Tuscan Columns To Be Set On Any Cambridge Wallstone Column (Not Included)

Add An Easy To Connect, Optional Overhead Canopy*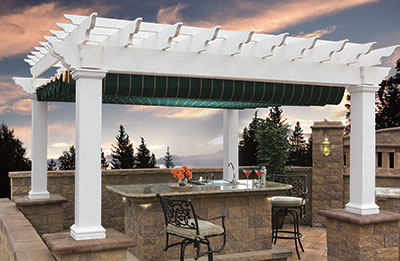 ---
Cambridge Pre-Packaged Colonnade 2-Column Pergola
A custom pergola with pre-packaged convenience! You can custom order the length you need up to 20 ft. for virtually any application.
Standard Size: 9' x 9" High x 8' Deep (Length As Per Order)

Two 10" Diameter Fiberglass Tuscan Columns & Bases (Columns Come In Base White)

Columns Can Be Set On Any Cambridge Wallstone Column Or Outdoor Living Component

All Components Pre-Cut & Drilled For Easy Assembly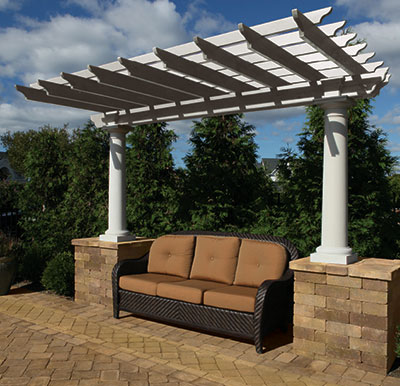 ---
*For extra shelter from the sun and rain, add an easy to connect, optional overhead canopy to your 4 Column Pergola Kit with durable, extruded aluminum parts (excludes purlins as shown in photograph), which includes a WeatherGuard rain layer. A choice of stylish fabrics, green or red with beige stripes and Roman pleats, carries one of the best fabric warranties in the industry!


PAVILIONS
Cambridge Pre-Packaged Pavilion Kit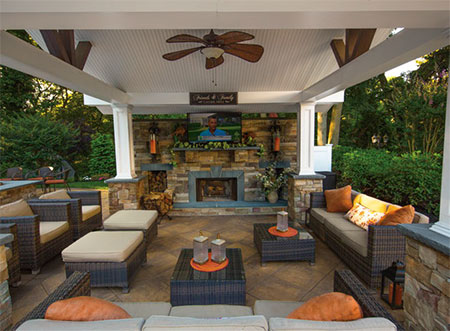 Custom Pavilion Shown
Don't let the sun or rain cramp your outdoor living style! Perfect alone or in combination with other Cambridge kits, the Pavilion Kit from Cambridge will provide a year-round, low maintenance gathering spot that will beautify any project. This substantial and well-appointed structure is constructed of traditional building materials with all exposed surfaces using low maintenance materials. Select either a cathedral or a flat ceiling.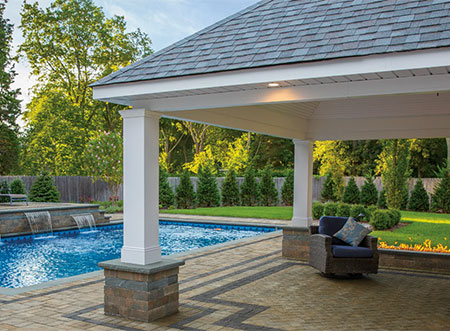 Custom Pavilion Shown
Choose between two standard sizes (10' x 15' and 12' x 18') or specify any custom size to meet specific requirements of your project. Includes four 10" diameter, fiberglass Tuscan columns to be set on any Cambridge Column (not included). Pre-crafted components and hardware along with a complete set of drawings and construction techniques are provided to facilitate installation by your carpentry crew or take advantage of an optional local installation service.