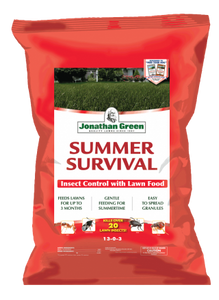 Summer Survival Insect Control with Lawn Fertilizer 5,000 SF Bag
Fertilizer analysis: 13-0-3 
Low nitrogen formula, specially designed for summer months
Gently feeds the lawn for two months without burning
Kills over 15 surface feeding insects that damage grass leaves
Deters insects from entering the home
Description
Jonathan Green's Summer Survival Insect Control with Lawn Fertilizer is used to eliminate surface feeding insects from lawns. Summer Survival can be used on the lawn and in landscape beds to kill and control over 15 surface feeding insects including but not limited to: chinch bugs, billbugs, ticks, fleas, armyworms, ants, sod webworms and centipedes.
This fertilizer also reduces insect entry into the home when it is applied within a 6 – 10 foot radius of the structure. The fertilizer in this product contains controlled release nitrogen which keeps grass greener longer and will never burn the lawn when used as directed. Please note that Summer Survival Insect Control does not kill grubs. Instead, use Jonathan Green Grub & Insect Control when grubs become a problem.
Directions
 When to Apply:  
Insect control should be applied when insects first appear.
Spread this product a day or two after mowing and when the lawn is dry. 
Best time to apply is spring, summer or early fall depending on the region.
Apply the same day as seeding or sodding.
Apply:  
Check that the spreader opening at the bottom of the hopper is closed.  
To select the proper spreader setting see the Spreader Settings section in the accordion below. 
Push the lever forward only when ready to spread.
Apply fertilizer around the perimeter of the lawn to establish a turning area. Then run the spreader back and forth within the area outlined by your first perimeter application. Always allow an overlap to avoid gaps in coverage.
There are restrictions concerning the use of Summer Survival Insect Control near bodies of water. Do not apply this product within 25 feet of lakes, reservoirs, rivers, permanent streams, marshes, or natural ponds, natural estuaries, and commercial fish ponds.
Post-Application:
Sweep any excess granules off of hard surfaces and back onto the lawn.
Thoroughly irrigate the treated area after application for best results. About 1 ½ inches of water per week is sufficient between rainfall and irrigation but not to the point of run-off. 
Once watered, wait a day to mow the lawn allowing the product time to activate.
Specifications
Coverage: 
15 lb Bag – 5,000 sq. ft. 

45 lb Bag – 15,000 sq. ft. 
Analysis:  13-0-3
Can Be Used When Seeding:  Yes
Apply to Dry or Damp Lawn:  Dry
Safe for Children & Pets:  No
Application Temperature Range:  65° – 85°F
When to Use:  Spring, summer or fall
---