2021 Guide to Upgrading your Outdoor Space
Posted by Chris Fanelli on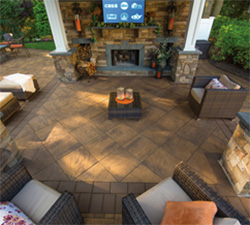 As flowers start to blossom and weather gets warmer we will be spending more time outdoors. Now is the perfect opportunity to spice up your backyard with fun and innovative changes the whole family can enjoy together!
Create a new space in your home
This year more than ever, it's important to extend your living outdoors and breathe in the fresh air. With outdoor living spaces becoming more popular, consider designing one of your very own. Cambridge Pavilions are the perfect addition to your backyard. A Pavilion is great because it shelters you from the elements, and is a great spot to hang up a TVand enjoy a movie night with your family! Add in a fireplace for extra cozziness on those cooler nights. Take advantage of the upcoming warm weather and transform your backyard into something beautiful!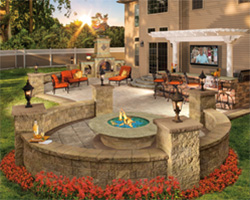 Chill Zone
Imagine being able to decompress in an oasis that's right out your back door! Vacation vibes can be just steps away, no need for those long flights. After a stressful day you can step into your backyard to unwind. Our pergola kits can revamp a boring space into a modern chic area you will love to spend time in. Place one of our waterfalls nearby for a well deserved zen. Bring a book, and lounge with a glass of wine or coffee next to your firepit. Cambridge makes it easy for your backyard to feel like a vacation everyday, the possibilities are endless.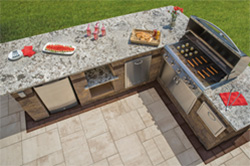 Outdoor Kitchen
Whether you're preparing family dinner or barbecuing, an outdoor kitchen is the place to do it. Eliminate the mess indoors and get creative. With the Cambridge outdoor pizza oven the whole family can enjoy making their own personalized pizzas. Grill burgers and veggies on our grill modules which take just one hour to set up. No need to leave your home when you have everything in your own backyard.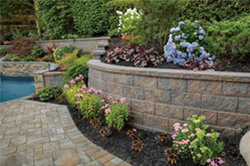 Hardscaping walls to highlight Landscaping
After a dull & cold winter, flowers and plants will brighten up your Spring days. If you don't have a garden yet this is the year to start planting! A garden will diversify and bring a beautiful unique aesthetic to your yard. With various colors and patterns to choose from, Cambridge can help showcase your landscaping with a hardscaping wall. Cambridge walls assure long lasting and quality materials to enliven your outdoor space. Add some LED lights to brighten up your garden and create a refined modernized look.
---
Share this post
---
---
---
10 comments