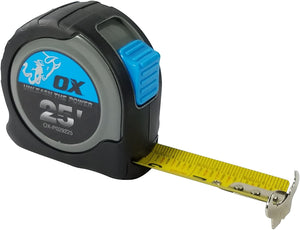 OX Tools 25 Foot Tape Measure
The OX Tools 25 Foot Tape Measure is a high-quality and durable tool designed for accurate and reliable measuring. Made from high-quality materials, this tape measure is built to withstand the rigors of construction sites and heavy use.
The tape measure features a wide and sturdy blade that extends up to 25 feet, allowing you to measure large distances with ease. Its clear and easy-to-read markings ensure accurate and precise measurements every time, while its durable construction ensures it will last for years of heavy use.
With its comfortable grip and ergonomic design, the OX Tools 25 Foot Tape Measure is easy to use and reduces hand fatigue, allowing you to work longer and more efficiently. It's a must-have tool for any professional contractor or DIY enthusiast looking to achieve accurate and reliable measurements on their projects.
---