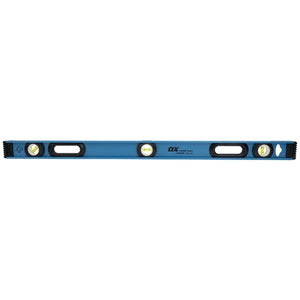 OX 36" ALUMINUM I-BEAM MAGNETIC LEVEL
The OX 36" Aluminum I-Beam Magnetic Level is a high-quality and reliable tool that is perfect for professional contractors, carpenters, and DIY enthusiasts. The level features a durable aluminum I-beam frame that provides superior accuracy and durability, making it perfect for use in demanding work environments.
The level is also equipped with powerful magnets that allow you to easily attach it to metal surfaces, freeing up your hands for other tasks. The level also features easy-to-read vials that are accurate to within 0.5mm/m, ensuring that you get precise measurements every time.
The level is lightweight and easy to handle, making it ideal for use on the job site. Whether you're installing windows, doors, or framing walls, the OX 36" Aluminum I-Beam Magnetic Level is the perfect tool for the job.
---