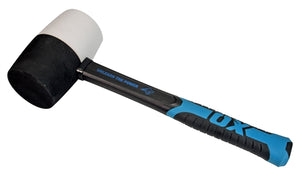 OX 32 OZ COMB RUBBER MALLET
The OX 32 Oz Comb Rubber Mallet is a versatile and reliable tool that is perfect for a wide range of applications. The mallet features a non-marking rubber head that is designed to deliver a gentle, yet effective impact without damaging the surface of your workpiece. The head is also interchangeable, allowing you to switch between hard and soft heads depending on your needs.
The mallet is constructed with a durable and lightweight fiberglass handle that is easy to handle and reduces hand fatigue. The handle is also ergonomically designed to provide a comfortable grip, even during extended use.
Whether you're a construction professional, woodworker, or DIY enthusiast, the OX 32 Oz Comb Rubber Mallet is an excellent choice. With its durable construction, interchangeable heads, and comfortable grip, this mallet is sure to provide you with reliable and effective performance on every project.
---