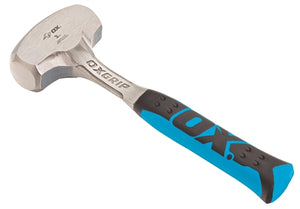 OX 3 LB CLUB HAMMER
OXP082703
The OX 3 LB Club Hammer is a type of hammer commonly used in construction and demolition projects. It features a heavy, 3-pound head that is ideal for tasks such as breaking concrete, driving stakes, and demolishing walls.
The hammer's handle is made of durable, shock-absorbing material that helps reduce hand fatigue during extended use. The grip is ergonomically designed to provide a comfortable and secure hold, even when wearing gloves or working in wet conditions.
Overall, the OX 3 LB Club Hammer is a reliable and effective tool for any heavy-duty hammering job, and is a popular choice among professionals in the construction and demolition industries.
---