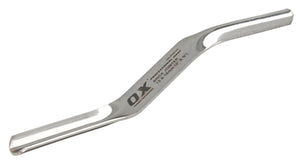 OX 1/2" X 5/8" BRICK JOINTER
OXP031101
The OX 1/2" X 5/8" Brick Jointer is a high-quality tool designed for masonry work. Made from durable materials, this jointer is built to withstand the rigors of construction sites and heavy use.
The jointer's unique design features a double-ended tool with two different sizes - 1/2" and 5/8" - allowing you to create precise and uniform joints in your brickwork. Its smooth, polished surface ensures a clean and even finish every time, making it a must-have tool for any professional mason or DIY enthusiast.
The OX 1/2" X 5/8" Brick Jointer is easy to use and provides excellent results in less time. Its comfortable grip and ergonomic design reduce hand fatigue and make it easy to handle, even for extended periods of use.
---