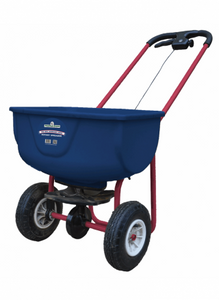 New American Lawn® Standard Rotary Spreader
Frequently Bought Together
Holds up to 40 lbs of product
Large air filled 9 inch rubber tires for easy pushing
Spreads grass seed, fertilizer, soil food, ice melters and more
Includes a spreader setting guide for all Jonathan Green products
Description
Jonathan Green's New American Lawn® Standard Rotary Spreader is designed so the operator stands up straight when pushing the spreader, eliminating back fatigue. The large air filled rubber tires make it easy to push a full spreader over rocks, roots, and depressions in the lawn. Spreads a 10 foot swath which means less work to cover the entire lawn. The spreader hopper holds up to 40 pounds of product.
Directions
How to Use: 
Check the port at the bottom of the spreader hopper to ensure that it is closed.
Fill the spreader no more than two inches from the top of the hopper.
Review the Jonathan Green Spreader Settings chart to select the proper setting for your product.
To begin spreading, push the handle away from you to open the port and release the product.
Walk at a brisk pace to disperse the product evenly.
When making turns or stopping, pull the handle toward you to close the port.
Allow a few feet between passes to ensure an even distribution across the lawn.

Maintain:
After each use clean any remaining product out of hopper.
Rinse and dry the inside and outside of the spreader after each use.
Store in a clean dry place.
Recommended tire pressure 25 psi.
Never exceed load capacity.
Specifications
Coverage:  40 lbs of product – 10,000 sq. ft. 
Tires:  9 inches
Broadcast Width:  10 feet
Click the button below to view and download a pdf of the product manual.
Frequently Bought Together
Black Beauty Sun & Shade Grass Seed
Green Up Fertilizer for seeding & sodding
---