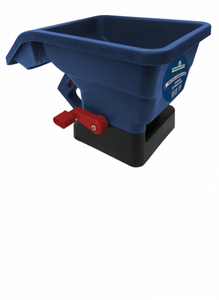 New American Lawn® Hand Spreader
Fully assembled
Lightweight, easy-to-use ergonomic handle
Great for lawns, gardens, driveways and walkways
Spread grass seed, fertilizer and ice melts
Ideal for seeding bare spots
Perfect for spot weed control
Description
Jonathan Green's New American Lawn® Hand Spreader is ideal for spreading grass seed, fertilizers, and ice melters. Easy and comfortable to use, the ergonomic handle allows the weight to be supported by the operator's forearm, preventing back injuries.The spreader is fully assembled and is made of lightweight, corrosion resistant materials. Great to use on lawns, gardens, driveways and sidewalks.
Directions
How to Use:
Check the port at the bottom of the spreader hopper to ensure that it is closed.
Fill the spreader no more than one inch from the top of the hopper.

To begin spreading,

squeeze the trigger to open the port/hole at the bottom of the spreader. Crank the handle clockwise to disperse the product.
Walk at an even brisk pace, turning the crank steadily to evenly distribute the product. 
When making turns or stopping, release the trigger to close the port.
Maintain:
After each use clean any remaining product out of hopper.
Rinse and dry the inside and outside of the spreader after each use.
Store in a clean dry place.
Never exceed load capacity.
Specifications
Coverage:  5 lbs of product – 1,500 sq. ft. 
Broadcast Width:  10 feet
---