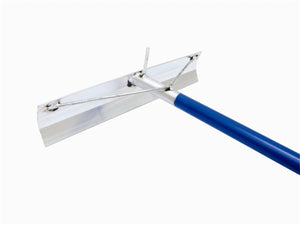 Marshalltown All Aluminum Placer with Hook
MTAP753H
The Marshalltown All Aluminum Placer with Hook is a versatile and durable tool designed for concrete finishing and placement. Made from high-quality aluminum, this tool is lightweight yet strong, making it ideal for use on construction sites and other demanding environments.
The placer features a unique hook design that allows you to easily move and position concrete while minimizing air pockets and other imperfections. The smooth surface of the aluminum blade ensures a clean and even finish every time.
With its comfortable grip and ergonomic design, the Marshalltown All Aluminum Placer with Hook is easy to use and reduces hand fatigue, allowing you to work longer and more efficiently. It's a must-have tool for any professional concrete worker or DIY enthusiast looking to achieve a flawless finish on their concrete projects.
---