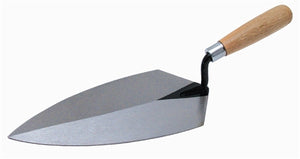 Marshalltown 10 X 5 Brick Trowel - Philadelphia Pattern w/Wood Handle
MT96
The Marshalltown 10 X 5 Brick Trowel is a type of trowel used for laying bricks and other masonry work. The "Philadelphia Pattern" refers to the shape of the blade, which has a tapered edge and a curved tip that allows for precise control when spreading mortar or grout.
The trowel is made with a high-quality, tempered steel blade that is durable and long-lasting. The wooden handle provides a comfortable grip for extended use, and is designed to absorb shock and reduce hand fatigue.
Overall, the Marshalltown 10 X 5 Brick Trowel is a reliable and efficient tool for any masonry project, and is commonly used by both professional and DIY builders alike.
---