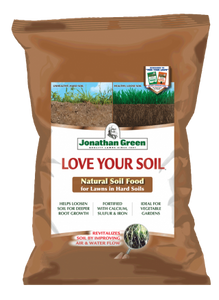 Love Your Soil®5,000SF Bag
Loosens hard, compacted soil
Increases root mass and drought tolerance of turfgrass
Spurs soil microbes to break down trapped soil nutrients
Rich in humates to help restore soil life, and creates a humus reserve in the soil
Description
Jonathan Greens Love Your Soil® assists in breaking up clay and loosens compacted soils, which improves root penetration, grass growth, and root mass. Because hard and compacted soil is often the problem when it comes to growing a great lawn, this product is designed to help release nutrients trapped in the soil for premium grass growth. 
Love Your Soil® also helps to stimulate soil microbial life. The bacteria and fungi in the soil break down organic matter converting it to humus. Healthy biologically active soil contains as much as 5% organic humus while lawns that struggle might contain less than 1%.
Feeding a lawn synthetic, chemical fertilizers neglects the microbial life within the soil. In comparison, Love Your Soil® feeds and stimulates microbes to build a humus reserve which imparts nutrient-laden water and disease resistance. Microbial populations are responsible for recycling organic waste which makes the soil more porous allowing air, water, and grassroots to penetrate deeper.  
Directions
 When to Apply:  
The best time to apply is spring, summer, or fall when the soil temperature reaches 65

°

F or higher.

Safe to apply when seeding or sodding.

Spread the product on a dry lawn soon after mowing.



Apply:  
For best results, rake the lawn vigorously prior to application. 

Use a rotary or drop lawn

s

preader. To select the proper setting see the Spreader Settings section in the accordion below.

Apply around the perimeter of the

lawn

to establish a turning area. Then run the spreader back and forth within the area outlined by your first perimeter application. Always allow overlap to avoid gaps in coverage.

Can be used on vegetable gardens, trees, roses, and shrubs.   



Post-Application:
To avoid staining, sweep any excess granules off of hard surfaces and back onto the lawn.

Irrigate after application for best results.

Once watered, wait a day to mow the lawn to give the product time to activate.
Specifications
Coverage: 
 3.6 lb Bag – 1,000 sq. ft.

 18 lb Bag – 5,000 sq. ft.

 54 lb Bag – 15,000 sq. ft. 
Fortified With:  Fast-acting gypsum, humates, iron, and amino acids
Can Be Used When Seeding:  Yes
Apply to Dry or Damp Lawn:  Dry
Safe for Children & Pets:  Yes
Application Temperature Range:  Minimum 55°F
When to Use:  Late spring, summer, and early fall
Click the button below to view and download a pdf of the product label.
---