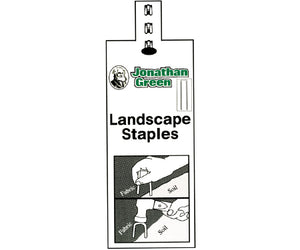 Landscape Staples (6" x 1" x 6" - 1000-Pack)
Landscape Staples are professional grade 6" steel fabric staples designed for all landscaping purposes. Install them easily and quickly to secure and protect landscape fabrics, tarps, burlap, garden netting, outdoor covers, soaker hoses, vapor barriers, and more. Each staple measures 6" x 1" x 6". 1,000-Pack.
This 1000-pack of 6" x 1" x 6" staples provides fast, effective installation of landscaping fabric and edging borders. Constructed of heavy-duty steel, they are robust, durable and designed to last. An ideal solution for a professional finish on landscaping projects.
---