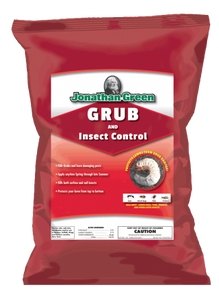 Grub & Insect Control 5,000SF Bag
Kills both surface and soil insects
Apply anytime from spring through late summer
Kills grubs, chinch bugs, ants, fleas, ticks and more
Protects lawns from top to bottom
Description
Jonathan Greens Grub & Insect Control protects lawns from insect damage from top to bottom. Grubs can destroy lawns by eating grass roots, especially soon after hatching when their appetite is at its peak. It is easiest to kill grubs in mid-spring before they lay their eggs or in late summer once the eggs of the next generation have hatched. 
This two-part premium formula contains Merit®, an insecticide that kills grubs deep down in the soil, where the lawn roots are growing. It also contains lambda-cyhalothrin to achieve excellent control of surface feeding insects such as ants, fleas, crickets, chinch bugs, earwigs, and ticks.
Directions
When to Apply:
For grub and chinch bug control, treat the lawn any time between July through October. For best control of grubs apply the product twice, once in late summer to kill the pupa and again in mid-spring to control adult grubs.
For control of sod webworms, armyworms and other surface feeding insects apply when insects first appear or when lawn damage occurs from March through October.
Apply when the lawn is dry.
Apply:
Use a rotary or drop lawn spreader to uniformly apply. To select the proper setting see the Spreader Settings section in the accordion below.
Apply around the perimeter of the lawn to establish a turning area. Then run the spreader back and forth within the area outlined by your first perimeter application. Always allow overlap to avoid gaps in coverage. 
To protect the environment, do not allow the product to enter or runoff into storm drains, drainage ditches, gutters, or surface waters.

Post-Application:
To avoid staining, sweep any excess granules off of hard surfaces and back onto the lawn.
Irrigate the lawn lightly with ¼ to ½ inch of water or rainfall immediately after application to activate the product. 
Treat again in late summer or early fall if a second generation of surface feeding insects occurs.
Specifications
Coverage: 
8 lb Bag – 5,000 sq. ft.

16 lb Bag – 10,000 sq. ft.
Controls:  Grubs, Chinch Bugs, Billbugs, Webworms, Ticks, and more
Active Ingredients:  Imidacloprid & Lambda-Cyhalothrin
Can be Used When Seeding:  Yes
Apply to Dry or Damp Lawn:  Dry
Safe for Children & Pets:  No
Application Temperature Range:  55° – 80°F
When to Use:  Spring, summer and early fall
Click the button below to view and download a pdf of the product label.
---