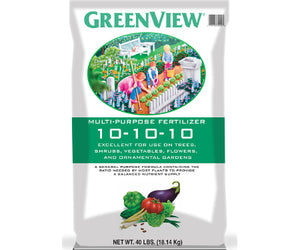 GreenView Multi-Purpose Fertilizer - 10-10-10 (4,000 sq. ft.)
This all purpose plant food contains a balanced ratio of nutrients. For use on vegetable, flower and ornamental gardens. Provides a quality feeding for lawns, trees and shrubs. An ideal starter fertilizer for new lawns. 4,000 sq. ft. coverage.
Coverage: 4,000 sq. ft.
GreenView Multi-Purpose Fertilizer - 10-10-10 is an all-purpose plant food providing an optimal balance of nutrients for vegetable, flower, and ornamental gardens. It is also a reliable starter fertilizer for new lawns and provides a quality feeding for lawns, trees and shrubs, with coverage up to 4,000 sq. ft.36.00
---