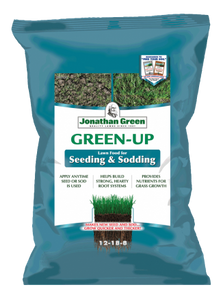 Green-Up Fertilizer for Seeding & Sodding
Fertilizer analysis: 12-18-8
High phosphorus formula helps to develop deep, dense roots
Apply the same day as seeding or sodding
Contains humates to get new lawns off to a great start
Feeds for up to 2 months
Description
Jonathan Green Green-Up Fertilizer for Seeding & Sodding has been specifically formulated to grow quicker and thicker grassroots which are essential for surviving the stresses of summer and winter. Our seeding and sodding fertilizer is rich in phosphorus which is a key component in root formation for the development of new seedlings. This product also contains humates that enhance the efficiency, availability, and exchange of plant nutrients to and from the soil.
Directions
When to Apply:   
Apply the same day as seeding or sodding.
Best time to apply is spring, late summer or early fall depending on region. 
Spread this product a day or two after mowing and when the lawn is dry. 
Apply:  
Use a rotary or drop lawn spreader.
Check that the spreader opening at the bottom of the hopper is closed.  
To select the proper spreader setting see the Spreader Settings section in the accordion below. 
Push the lever forward only when ready to spread.
Apply fertilizer around the perimeter of the lawn to establish a turning area. Then run the spreader back and forth within the area outlined by your first perimeter application. Always allow an overlap to avoid gaps in coverage.
Post-Application:
Sweep any excess granules off of hard surfaces and back onto the lawn.
Thoroughly irrigate the treated area after application for best results. About 1 ½ inches of water per week is sufficient between rainfall and irrigation, but not to the point of run-off. 
Once watered, wait a day to mow the lawn allowing the product time to activate. 
Specifications
Coverage: 
5 lb Bag – 1

,500 sq. ft. 

15 lb Bag – 5,000 sq. ft. 

45 lb Bag – 15,000 sq. ft. 
Analysis:  12-18-8
Can Be Used When Seeding:  Yes
Apply to Dry or Damp Lawn:  Dry
Safe for Children & Pets:  Yes
Application Temperature Range:  55° – 80°F
When to Use:  Spring, summer, or early fall
Click the button below to view and download a pdf of the product label.
---